REGISTRATIONS
The Conference is recognised as one of the largest gatherings of thought leaders, educators and industry professionals in the waste and resource recovery sector.
The Conference ,  hosted by the Waste Management and Resource Recovery Association of Australia, Department of Water and Environmental Regulation and Western Australian Local Government Association,  is still the leading waste and resource recovery event in Western Australia.
Conference Registration includes:
Access to all Conference sessions on Wednesday 25 September & Thursday 26 September
Tea breaks and lunches
Wednesday Cocktail Reception
Day registration includes:
Access to all Conference sessions on the selected day
Tea breaks and lunches
Friday Tours are not included in the above registration types. These can be purchased as an additional function when completing your booking.
Tours are full day tours and are both run on Friday 27 September. Please only select one of the tours.
South West Landfill and FOGO Processing Tour
This tour will take you to the heart of landfill and FOGO processing in the South West Region. This is a long day tour, due to the distances travelled, but will be worth it to view the variety of approaches to landfilling and organics processing.
Stopping Waste at the Source
This Tour will take in a variety of commercial operations – including cafés and public venues which show case better practice approaches to waste reduction and management. This tour is ideal for anyone managing facilities or who wants to help reduce waste in their operations.
PRICING (Earlybird pricing ends 23 August 2019).
$799.00  Earlybird: Conference & Networking Event
$920.00  Standard: Conference & Networking Event
$700.00 Program Committee: Conference & Networking Event
$500.00   Day Registration
$700.00 Speaker: Conference & Networking Event
ADDITIONAL FUNCTIONS
$250.00 Friday Tours Full Day (please only select one of the two tours as they are run at the same time)
$85.00 Wednesday Cocktail Function
ACCOMMODATION
Discounted accommodation rates have been negotiated for attendees to the 2019 Waste & Recycle Conference at the Crown Promenade Perth. Please book your accommodation through the registration portal to take advantage of these rates.
Crown Promenade Perth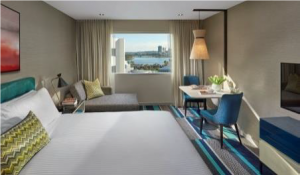 With bright and spacious interiors, custom made furnishings and every imaginable amenity, Crown Promenade Perth provides a relaxed and comfortable atmosphere for work or play. Complimentary wireless internet (suitable for basic internet browsing and checking emails only) is available in all accommodation rooms. Rooms available from $230 per night.